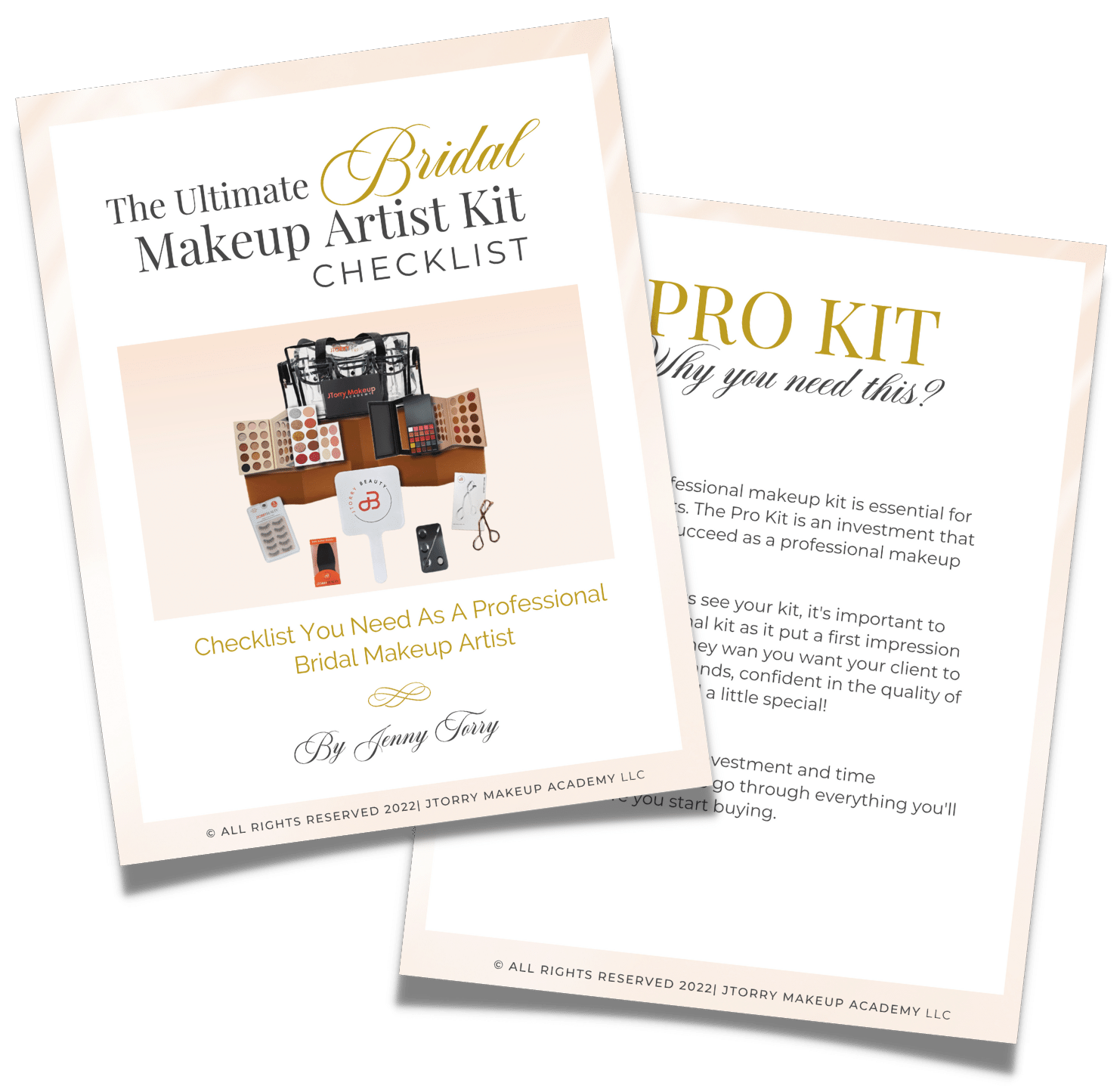 Download your Free
ULTIMATE BRIDAL MAKEUP!
Arranging a professional cosmetics kit can be a hassle. There are so many products and brands to select from that it is easy to become overwhelmed and give up!
I've prepared a pro makeup kit for starters that includes everything you need to show that you're an expert in a fraction of the time it would typically take.
When it comes to curating a pro makeup kit, don't ever leave it up to chance.
Download this simple, uncomplicated makeup kit I created to help you stay focused & save money.
If you're still on the brink of whether or not you're ready to take professional makeup artistry training, then you will need to take a quick self-assessment tool to erase your doubts once and for all.
OVERSPENDING ON MAKEUP TOOLS & PRODUCTS
Without a proper guide or checklist, there's a huge chance you will be purchasing everything you see in a makeup or beauty store because you don't know which ones are important.
NOT KNOWING WHERE TO START
You may still be second-guessing or are at a loss on where or how to start in pursuit of becoming a makeup artist so we're here to help you sort it out.
Through the self-assessment, you will find out what is the next step in becoming a professional makeup artist. We'd love to assist you further in your journey!
CURATE THE PERFECT MAKEUP KIT
Setting up your makeup kit like a pro is one of the most essential steps before being able to practice being a professional artist. The pro makeup kit checklist will also save yourself from overspending on items you don't need.
LEARN MORE ABOUT YOURSELF
Through the self-assessment question guide, you will be able to determine your strengths and areas to improve on to become a pro MUA.
HERE'S WHAT STUDENTS HAVE TO SAY
Komal R.
Before the academy I struggle with blending the contour and creating eye looks with various eyeshadow colors and the course covered this and a lot more in just 8 days! Jenny were there every second to guide us. This course certainly transformed me into a confident makeup artist. jenny never made us feel like we didn't know how to do certain things while doing makeup instead she helped us and brought confidence into us, which I really love.
Jinu S.
I had a huge passion for makeup and I'd never imagined how much I would love doing makeup on others until this experience. It enabled me to become more confident putting makeup on others and giving them a look that they loved! I loved Jenny structured the course to really teach the WHY behind every step, as well as the HOW. She recommended the best products and technique and truly went above and beyond to explain, critique, and answer any and all questions. The academy fostered and environment where experienced and non-experienced students had the freedom to fail and make mistakes.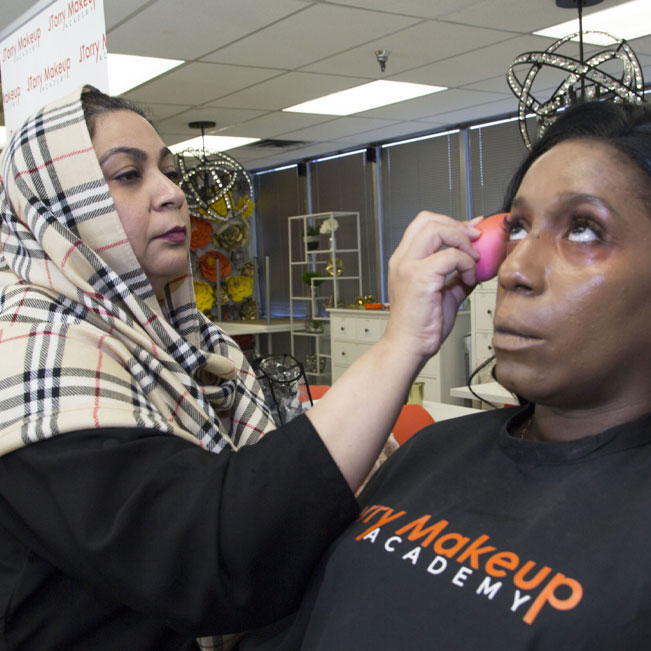 Mona Gaziani
Really enjoyed taking classes with Jenny. She is an amazing teacher and above all a great human being! She taught a lot of different eye makeup techniques and taught how to color correct on different skin tones. I was always afraid to use darker shades on the eyes but she helped me overcome my fears. If you're looking to learn and elevate your skills then I recommend you take classes at JTorry Makeup Academy! You won't regret it!!
Anushuya Tripathee
I only used to do makeup on myself and for family and friends and I didn't have much confidence but after learning the new techniques and tricks I am confidence to do make up on other people too I am glad that I choosed her. while talking about Jenny she is very sweet, calm and full of positivity and top of all she is very friendly and it felt like I am in home while I was learning from her. Thank you Jenny for everything.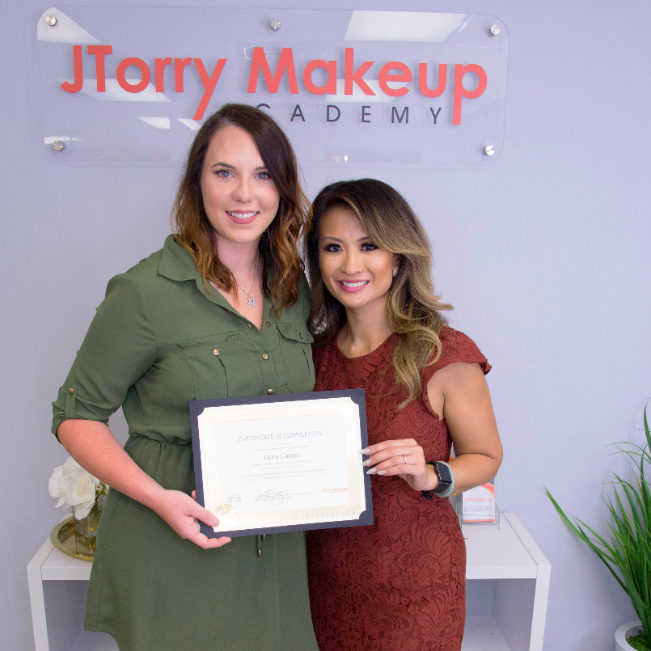 Lena Capps
"She is the best teacher and best makeup artist. I joined her academy as a beginner . She knew my weakness and helped me overcome my fears . Thank you Jenny for make me the artist I'm today "
Vanessa
"I struggled a lot with feeling confident with applying makeup On others. I always felt nervous and now I feel so much more comfortable when I get the chance to do someone's makeup:smiling_face_with_3_hearts: I also didn't know it at the time but I struggled with contouring correctly on different face shapes and now I can remember how to properly do so:relaxed: Ultimately I can say that I honestly do feel like a "professional" makeup artist. I obviously still have a lot more to learn and build but I can clearly see the difference now when it comes to others makeup and being able to refer back to what I have learned in the course and how it can be made better and more professional and stand out from other artists."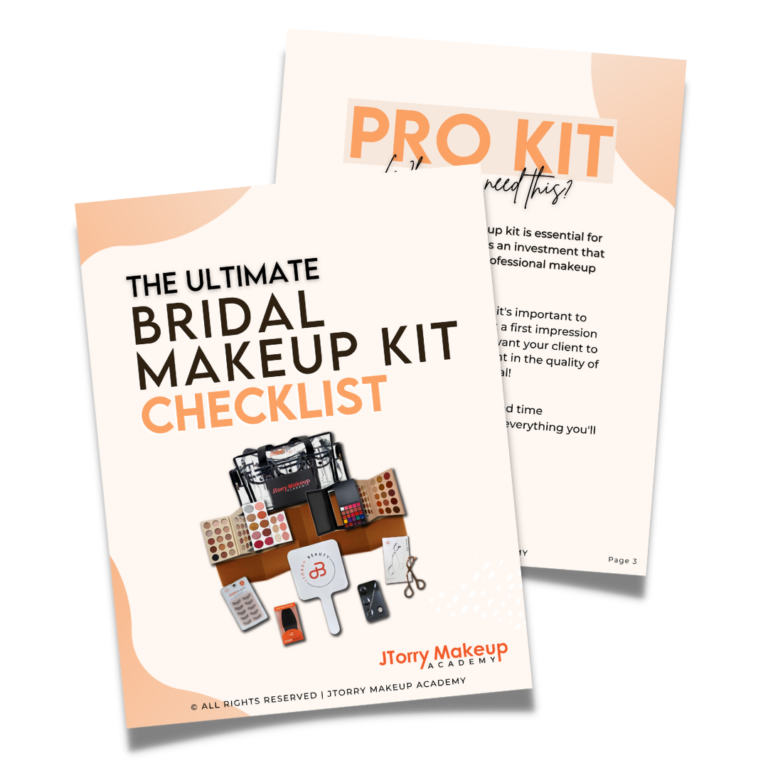 CEO/Founder of JTorry & JTorry Makeup Academy
Your Beauty + Beauty Biz Mentor
I have over a decade of experience as a professional makeup and hair artist living in Dallas, Texas. I'm the mother of a wonderful miraculous 9-year-old child named Milan and the wife of a 17-year-old loving and supportive husband. I enjoy working out, going to the parks with my family and a tall cup of boba tea.
I started off as a painter who sold canvases before deciding to switch to painting faces. That's when I started as a Luxury Bridal Professional Makeup & Hair Artist, honing my makeup application methods and expanding my expertise. In 2017, I founded the JTorry Makeup Academy to educate in-person before transitioning to online instruction so that aspiring makeup artists may become confident and sought after makeup artists.
My vision is to help aspiring makeup artists all across the world become the successful and confident artists they've always wanted to be.
Save time

and

money!

Download your Free


Pro Makeup Kit list!
Arranging a professional cosmetics kit can be a hassle. There are so many products and brands to select from that it is easy to become overwhelmed and give up!
You can get a complete professional makeup kit list for a fraction of the time and cost, and you won't have to waste hours looking for the right products for your clients.
I've prepared a pro makeup kit for starters that includes everything you need to show that you're an expert in a fraction of the time it would typically take.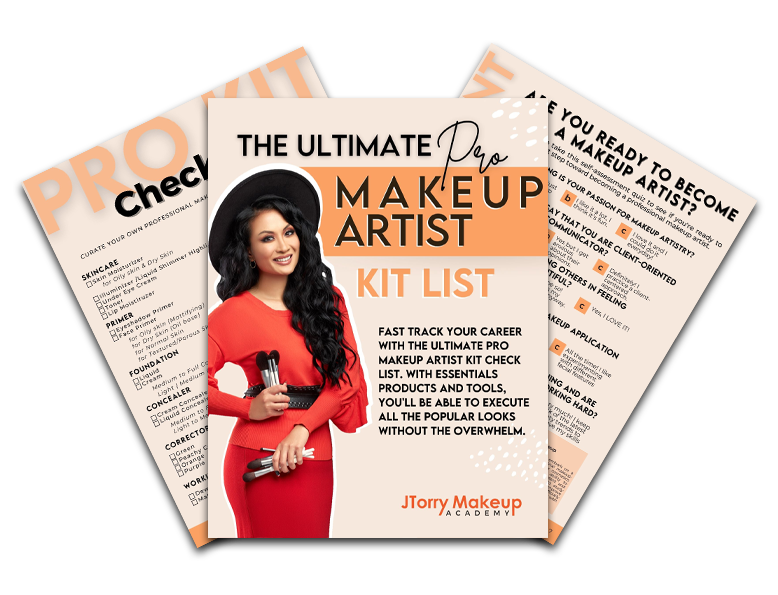 © 2022 JTorry Makeup Academy LLC. All rights reserved. This site is not a part of the Facebook™ website or Facebook Inc. Additionally, this site is NOT endorsed by Facebook™ in any way. Facebook™ is a trademark of Facebook™, Inc.
Earnings Disclaimer:
As with any business, your results may vary and will be based on individual capacity, business experience, expertise, and level of desire. All courses are informational and educational, and do not come with a guarantee as to the level of income you may achieve – you accept the risk that earnings may differ by individual. Each individual's success depends on his or her background, dedication, desire, and motivation.
The use of our information, products and services should be based on your own due diligence and you agree that the Company is not liable for any success or failure of your business that is directly or indirectly related to the purchase and use of our information, products, and services advertised on this Website.